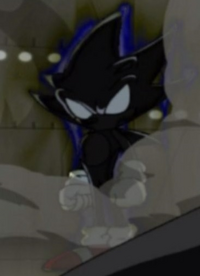 Dark Sonic
, também conhecido como
Dark Super Sonic
, é a forma mais obscura e com mais raiva do Sonic. Sua primeira e única aparição foi no episódio 67 do programa de TV Sonic X quando Cosmo está com medo e Chris é ferido por Black Narcissus do Metarex. A multidão de esmeraldas falsas e a raiva intensa do Sonic lhe permitiu alcançar esta transformação. Enquanto neste estado, Sonic mostra sua fúria, destruindo os dois protótipos de Metarex que Black Narcissus pôs contra ele a poucos segundos, a fim de testar suas habilidades. Ele volta ao normal quando Eggman diz que raiva e maus sentimentos não são bons.
Ad blocker interference detected!
Wikia is a free-to-use site that makes money from advertising. We have a modified experience for viewers using ad blockers

Wikia is not accessible if you've made further modifications. Remove the custom ad blocker rule(s) and the page will load as expected.