Flicky (Ou Flickies no plural) são uma raça de pássaros da série sonic.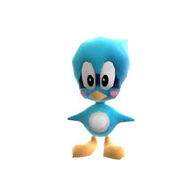 Participações em games
Edit
Os Flickies aparecem pela primeira vez nos games no game Flicky para Mega Drive e Master System, mas logo depois se tornaram parte da série sonic. eles apareceram na trilogia de mega drive , mas apenas como animais libertos por sonic, o que se repetiu pelo resto da série. as únicas vezes vezes que eles são importantes pra história são  Sonic 3D Blast  e Sonic Adventure 2.
Ad blocker interference detected!
Wikia is a free-to-use site that makes money from advertising. We have a modified experience for viewers using ad blockers

Wikia is not accessible if you've made further modifications. Remove the custom ad blocker rule(s) and the page will load as expected.