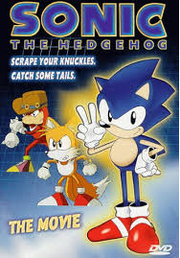 Sonic the Hedgehog: The Movie
, ou simplesmente 
Sonic OVA
, foi o primeiro filme de Sonic lançado em 31 de maio de 1996 e dividido em 2 capítulos. Tem a duração de 1 hora (60 minutos), é baseado em dois jogos de Sonic.
Sonic está relaxando numa beachchair fora as ruínas de um acidente de Boeing 747 e USS Enterprise. Quando Tails sai para testar seu novo jato, ele pede para Sonic experimentá-lo. Sonic encontra o navio de Oji-san e decide investigar.
Personagens
Edit
Principais:
Edit
Recorrentes:
Edit
Sonic mostrando o dedo do meio ao Metal Robotnik.
Quando Eggman propõe ter filhos com Sara.
Ad blocker interference detected!
Wikia is a free-to-use site that makes money from advertising. We have a modified experience for viewers using ad blockers

Wikia is not accessible if you've made further modifications. Remove the custom ad blocker rule(s) and the page will load as expected.