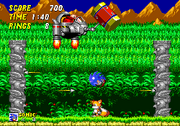 Tonkachi Eggman é o chefe da fase Aquatic Ruins do Sonic 2 e é considerado um dos chefes mais criativos do jogo.
Habilidades
Edit
É simplesmente o EggMobile de Robotnik flutuando com um martelo gigante. Dois totens gigantes o cercam e, toda vez que Robotnik bate o martelo no totem sai uma flecha de uma das bocas do mesmo. Sonic precisa pular encima das flechas para conseguir altura suficiente para pular no Robotnik.
Ad blocker interference detected!
Wikia is a free-to-use site that makes money from advertising. We have a modified experience for viewers using ad blockers

Wikia is not accessible if you've made further modifications. Remove the custom ad blocker rule(s) and the page will load as expected.